Larchmont starts work on $1.6M baseball complex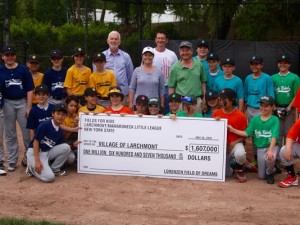 A $1.6 million baseball complex project at Lorenzen Park in Larchmont will begin later this month and is expected to be operational by this time next year.
LARCHMONT – By this time next year, baseball in the village could be played on a new, $1.6 million baseball complex at Lorenzen Park.
The complex will include a softball field and a baseball field with underground drainage, electronic scoreboards, a concession stand, spectator seating and a paved parking area.
The funding for the project was raised by Fields for Kids, a community-based organization that advocates and raises money for playing fields in Larchmont and Mamaroneck. New York State Assemblyman Steve Otis secured a $250,000 grant.